Learn how to Intentionally Use Music at Home and Work To Curb Stress, Boost Mood, Improve Learning and Restore Health – for you and your clients,  students or loved ones.
NEXT  WORKSHOP – SASKATOON
WEDNESDAY MAY 8 from 10:00 – 4:00pm
This workshop will be of benefit to:
Health Professionals, Educators, Caregivers, and Coaches
Simple Strategies.  Huge Impact.  No Previous Music Experience Required.
You will learn:
The difference between music as entertainment and how music, when used with the right intention, can greatly impact your health and quality of life.
What scientific evidence suggests that music really does for our health and learning – and how we can use this information to our advantage to decrease stress, boost our mood and feel more connected to others
Strategies and activities for using music with those you work with – any age, any ability – with a particular emphasis on working with seniors.
Strategies for using music for your own personal health and well-being.  Music is a vitamin pill for the spirit.
What Others Say About this Workshop and Facilitator:
The most valuable piece from this workshop was learning how to relax with my fellow co-workers.  I was reminded to learn and listen instead of rushing all the time.  I never thought music could do this. – Faye Lenson, Indian Oil and Gas
Jennifer touches your heart and causes you to dig deep and find yourself.  What a great encouragement to go boldly forward with courage. – Holly Bilton, CAREERS, The Next Generation
As soon as you started speaking it seemed like everyone connected with you .  – Mary Bobey, Women's Wellness Conference
Your session reminded me how much I like music so why not share it with others.  I listen to music at home and in the car..and will now at work. – Richard Valile, Chair, Vermillion Housing
Jennifer had a warm, receptive style, creating a cohesive working group and providing much valuable food for thought. She was a captivating facilitator ..total inspiration  – Meaghan Clark, CGPA (Psychotherapy Association)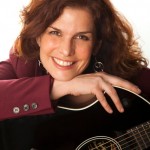 Facilitator: Jennifer Buchanan, BMT, MTA
Jennifer is a recognized expert on using music to boost mood and decrease stress.  Her music therapy business employs 18 staff who consult with over 1800 clients per week.
Her book TUNE IN is an outstanding resource for you and your colleagues. www.tuneintomusic.ca
Jennifer's presentations are infused with inspiration, strategies and real life examples of how music at home and in the workplace can take you from where you are to where you want to go.
BOOK A CONFERENCE PRESENTATION



(keynotes, seminars and workshops)
After a dose of music and Jennifer Buchanan be ready to feel more connected to your co-workers and more connected to yourselves.  No previous music required.